Temples

Virtual Pets | Games
Trading Cards Guide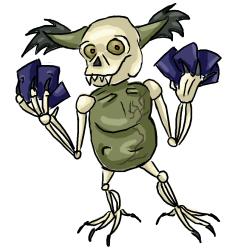 Below is a table listing all the opponents, with their name and difficulties.
Their difficulty is their starting health and will increase by one every time you beat that opponent.
To add a trading card in your deck you need to click it in your inventory and follow the instructions.
You can buy trading cards or win them from all over the site, such places as Rapunzel, Smuggler, Trading Card shop (Undying Woods), Celebrations and as Loyalty prizes.

| | | |
| --- | --- | --- |
| Trading Card | Name | Difficulty |
| | Abolous | 101 |
| | Acne | 45 |
| | Agent | 174 |
| | Apollo | 516 |
| | Azul Swarm | 43 |
| | Bad Chocolate | 54 |
| | Bailiff | 1 |
| | Betsoni | 95 |
| | Bigne | 96 |
| | Bomb | 305 |
| | Boo | 216 |
| | Cake | 100 |
| | Can | 57 |
| | Candy Floss | 84 |
| | Cat Burglar | 183 |
| | Caveman | 91 |
| | Cheddar | 79 |
| | Circus Clown | 20 |
| | City Accountant | 30 |
| | City Banker | 130 |
| | City Hobo | 15 |
| | City Mayor | 154 |
| | City Realtor | 40 |
| | Clown | 65 |
| | Computer Geek | 285 |
| | Cowboy | 210 |
| | Cracked | 1 |
| | Crinkal | 45 |
| | Daemon | 550 |
| | Dash | 197 |
| | Dark Fairy | 710 |
| | Dark Knight | 100 |
| | Devil | 750 |
| | Don Pefuto | 131 |
| | Drab Army | 28 |
| | Drake | 65 |
| | Easter Bunny | 53 |
| | Elder | 276 |
| | Eleka Guard | 41 |
| | Eleka Minions | 45 |
| | Elger | 145 |
| | Excavator | 50 |
| | Explorer | 75 |
| | Explosive | 650 |
| | Evil Tree | 72 |
| | Felicia | 65 |
| | Flamed | 170 |
| | Flitter | 15 |
| | Frankie | 360 |
| | Fungus | 600 |
| | Gargoyle | 240 |
| | Gavula | 183 |
| | Goblar | 200 |
| | Grinch | 350 |
| | Gross | 140 |
| | Hades | 400 |
| | Hasani | 50 |
| | Hero | 140 |
| | Hithe | 51 |
| | Hot Dog | 300 |
| | Housse | 34 |
| | Hungry Bolimo | 112 |
| | Ice Gnome | 162 |
| | Inflate | 250 |
| | Insomniac | 520 |
| | Iolan | 118 |
| | Jet | 71 |
| | Kevadra | 11 |
| | King Baspinar | 150 |
| | Kleptome | 32 |
| | Knutt Knight | 500 |
| | Krick | 48 |
| | Leprechaun | 35 |
| | Lightning | 235 |
| | Light Warrior | 101 |
| | Linuw | 27 |
| | Lotus | 127 |
| | Lxi | 5 |
| | Magic | 345 |
| | Meagre | 80 |
| | Mommi | 24 |
| | Monsoon | 600 |
| | Mount | 155 |
| | Mozo | 75 |
| | Mrog | 102 |
| | Murderer | 300 |
| | Muscles | 23 |
| | Muskit | 3 |
| | Naunet | 311 |
| | Newth Night | 25 |
| | Nightmare | 450 |
| | Nille | 13 |
| | Nocto | 48 |
| | Nutcracker | 50 |
| | Obese Fairy | 300 |
| | Ogul | 105 |
| | Oke | 250 |
| | Operative | 250 |
| | Perchuka | 151 |
| | Pessen | 123 |
| | Phospho | 60 |
| | Plutonium | 150 |
| | Poseidon | 138 |
| | Punk Xoi | 102 |
| | Pyramid | 450 |
| | Pyramid Twins | 700 |
| | Qikre | 30 |
| | Queen Eleka | 200 |
| | Raa | 250 |
| | RIP | 400 |
| | Rapid Fasoro | 11 |
| | Rapunzel | 650 |
| | Reisand | 87 |
| | Rubhd | 20 |
| | Runty | 35 |
| | Rusty | 3 |
| | Sandman | 100 |
| | Santa | 17 |
| | Santa Claws | 33 |
| | Shadow | 325 |
| | Sniffer | 114 |
| | Snot Newth | 6 |
| | Snowfight | 68 |
| | Snowball | 29 |
| | Snowman Twin | 7 |
| | Sorcerer | 456 |
| | Squit | 173 |
| | Sultan | 400 |
| | Sumo Feliz | 10 |
| | Sumo Sally | 500 |
| | Swondor | 3 |
| | Test Tube | 15 |
| | Thirugon | 51 |
| | Thunder | 145 |
| | Tichu | 125 |
| | Toothache | 155 |
| | Tresure | 187 |
| | Tuin | 24 |
| | Twigee | 168 |
| | Twree | 133 |
| | Uayl | 5 |
| | Undying | 900 |
| | Venus | 68 |
| | Vibue | 500 |
| | Villian | 400 |
| | Wee | 1 |
| | Wizadrip | 11 |
| | Wugor | 186 |
| | Xor | 110 |
| | Yaoe | 75 |
| | Yeti | 200 |
| | Zard | 8 |
| | Zeew | 40 |
| | Zeus | 450 |