Temples

Virtual Pets | Games
Blitzen Mission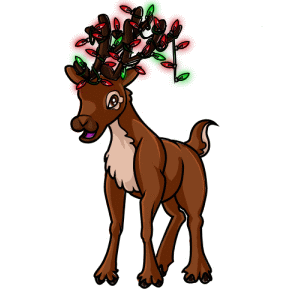 Blitzen's Grotto Biala being the home of Santa, Christmas is really important. Blitzen is one of Santa's reindeers and he needs your help to get enough items in time for Christmas. Viottos work for Santa too, and therefore the pet species is limited. If you can help Blitzen and complete his 30 missions he will reward you greatly.

You will need to collect a certain item for him within a certain time limit. He usually asks you to collect just one item, however he can ask for up to 3. If you fail to bring any of them, you will have to start again.

Blitzen asks for items by there rarity.
He can also ask for up to 3 items per level
For example, level 1, will be an item or items with a rarity 1
Level 2 = rarity 2 item, Level 3 = Rarity 3 item,& so on til level 30, which will be a rarity 30.
Blitzen is the hardest of all the missions to do, many fail.

Mission 1
Mission 2
Mission 3
Mission 4
Mission 5

Frozen Potato

100mp

Blitzen T-Shirt

250mp

Ice Potion
Mission 6
Mission 7
Mission 8
Mission 9
Mission 10

500mp

600mp

Blitzen Book

750mp

850mp
Mission 11
Mission 12
Mission 13
Mission 14
Mission 15

1,000mp

Blitzen DVD

1,100mp

1,200mp

2,500mp
Mission 16
Mission 17
Mission 18
Mission 19
Mission 20

5,000mp

Ice Shield

10,000mp

25,000mp

50,000mp
Mission 21
Mission 22
Mission 23
Mission 24
Mission 25

Blitzen Plushie

75,000mp

100,000mp

Blitzen Daggers

250,000mp
Mission 26
Mission 27
Mission 28
Mission 29
Mission 30

350,000mp

Ice Costume

500,000mp???

Blitzen Stamp

Viotto Potion

1,000,000mp