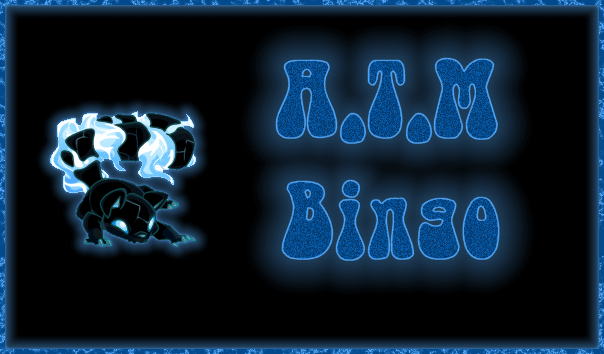 Beware the Phantom Snookle!
A pesky Phantom Snookle has infiltrated Addicted to Mara! We are calling on all Club members to help us eradicate this Phantom Snookle from our midst. We are counting on you!
Method of Eradication
If you would like to assist in ridding the Addicted to Mara of this peskiness , please send a MM to DarkRealm52 to choose your card. Your name will be listed below your card, and no one else will be able to use it. These cards are a portal the Phantom Snookle uses to transport into the A.T.M. Blocking his entries into the Club is the only way to abolish him.
Prepare for Action
1. Choose your card number and contact Dark for confirmation that the card is available. (remember, there are only 40 Cards)
2. Right click on your card and choose "Save Image As.
3. Save the card to a location you will easily find, such as your desktop. Rename the file if you want.
4. Open paint on your computer, open the card file, and play.
5. To mark out a space on the card, choose the "fill" option on your paint program, choose a color of your choice, and click on the space you want to mark.
6. If you save the colored in card under a different name, you will always have a new card, and a card in progress available to you.
7. If all that seems to much, just write it down on paper and use a pencil to cross off the numbers.
Each day, 5 numbers will be posted on the Club board. If you get a line in any direction, announce on the board your success in eradicating the Snookle! Please post the numbers that ended the reign of terror. Also MM DarkRealm52. Thank you for your assistance in these difficult times.

THE ONE WHO STOPS THIS WILL BE REWARDED.




Glowing Summer Fasoro Egg

Good luck!
Congratulations to the winner.
william2124
Next Round starts Monday , Jan 18
If you dont have a card, you can get one before the round starts, or if you want to change your card, please do so before the next round.
Numbers called
| | | | | | | | | | | | | | | | |
| --- | --- | --- | --- | --- | --- | --- | --- | --- | --- | --- | --- | --- | --- | --- | --- |
| R | -- | -- | 3 | -- | -- | 6 | 7 | 8 | 9 | 10 | 11 | 12 | -- | 14 | 15 |
| E | 16 | -- | -- | -- | 20 | -- | -- | 23 | 24 | 25 | 26 | -- | 28 | 29 | -- |
| A | 31 | -- | -- | -- | -- | -- | -- | 38 | 39 | -- | 41 | 42 | -- | 44 | 45 |
| L | -- | -- | 48 | 49 | 50 | -- | 52 | 53 | 54 | 55 | -- | 57 | 58 | -- | -- |
| M | -- | -- | -- | 64 | -- | 66 | -- | -- | -- | 70 | 71 | 72 | -- | 74 | -- |

1. william2124



2.Shikaishou



3. BECCA



4. Prophet



5. Jenna_Bella



6.Open



7. adamassiew



8. moonbeam55



9.Xeroxia



10.Mccandles



11.Open



12.nicecat2



13.boubouli



14.JavannaLynn



15.Dani (Next Round)



16.behappy



17. Open



18. Open



19. Open



20. YunisUnis



21.Open



22.gwylynnsgarden



23.Open



24.alessandrapoli



25.Open



26.Open



27. Open



28.Open



29. stephy4554



30.Open



31.Open



32.Open



33. Open



34.Open



35.Myth



36.Open



37.Open



38.kitty_123_cat



39.Open



40.GRAT2112